Today was a happy day for me. A day I have been waiting for for a long time. In fact a day I never thought would happen. Today was the day that
L'Occitane
opened in Polo Park. I know it seems a little crazy & weird to be so excited about the opening of a skin care store. Living in Winnipeg often means waiting for a long time for the stores you love to open. I often have to wait for a trip to the US or a major center like Toronto or Vancouver to find the stores you love. The only other option is to order online & pay huge shipping fees. Which explains my excitement for the store opening today.
My Love for L'Occitane started several years ago when
I first found this amazing store on a trip to Chicago with my mother & sister. That was the day I fell in love with their Shea Butter hand & Foot cream. Its not cheap, but the 150ml tube last a long time for the price, & it's rich non greasy formula that leaves winter chapped skin soft & rejuvenated.
Then a little over a year ago during my trip to Japan I finally ended my 12+ year search for a face care line that doesn't irritate my sensitive face with a little
rosacea
thrown in. I have tried many skin care lines and all of them seemed to be my answer for the first month or two, then sure enough my face would flare up & become tight & uncomfortable. Starting another search for a new skin care line. Finally while on my trip my mother told me of a skin care line she heard of from L'Occitane. I started using the
Shea & Cotton line
during my trip & have had happy skin ever since. I have never found a skin care line that I have LOVED, but this was it. My skin has not broken out or flared up for over a year.
Then today at the Grand opening My dreams
were crushed & all of my excitement turned to sadness. I was so excited to be able to buy the products I love at home. While I enthusiastically told my sister about the amazing properties of the skin care products I love so much, I noticed that the skin cleaner was not on display. I asked the product rep who politely informed me that it had been DISCONTINUED. All I could think was "what it couldn't be"I couldn't believe it. Doesn't it drive you crazy when you finally find a product you love they inevitably discontinue it? I think I stared at the shelf searching wildly for the coveted face cleanser hoping to make it appear out of thin air, but it never appeared. Once I got home I tried to find it on the L'Occitane website, with no luck.
So now the search I thought was finally over has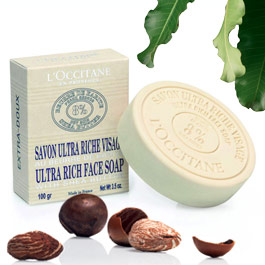 started again. I bought the Shea & Cotton face soap with the hope that my face will like it, remaining comfortable & free of flair ups. I have tried the other Shea & Cotton face cleansing options, with poor results. I hope the search will be short & inexpensive, with better results than my past attempts.